Why go nuts in festival traffic when you could park and ride to the SC Pecan Music and Food Festival using our free shuttle service?
Take advantage of free continuous shuttle service every twenty minutes from our satellite parking partners:
Hallmark Plaza at 953 S. Irby Street – Please use the spaces closest to Irby Street
Florence Regional Airport – Parking available on the grass at the front of the airport facing E. Palmetto Street
Florence Mall at 1945 W. Palmetto Street – Shuttle picks up in the lot near Piggly Wiggly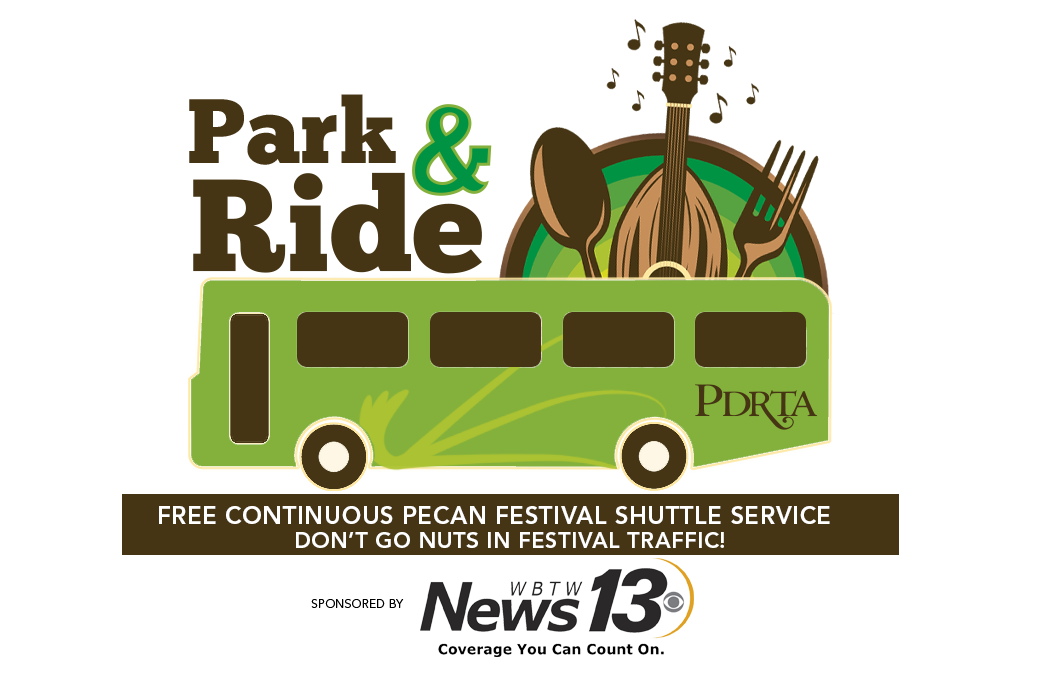 Yes, all Park & Ride shuttles are ADA accessible.
The shuttles run continuously every twenty minutes.
Unfortunately, dogs are not allowed on the free shuttles.
The last festival side pick-up leaves at 8:00 p.m. heading to designated parking lots.
The first pick-up time is 9:30 a.m. from designated parking lots.
Not planning to use the shuttle? While we prefer you utilize Park & Ride to keep from going NUTS in festival traffic, there are limited spaces available in the following lots and garages near the festival grounds:
City of Florence Parking Garage (135 S. Dargan Street at the Emerson Apartments) - FREE
Florence Darlington Tech Parking Garage (320 W. Cheves Street) - FREE
Florence County Parking Garage (124 W. NB Baroody Street) - FREE
City of Florence City Center Surface Lot (369 W. Cheves Street) - FREE
Limited handicapped parking is available in the City of Florence Parking garage (use 135 S. Dargan Street for your GPS address), the Florence County Parking Deck (124 W. NB Baroody Street), and in the SC DHEC Parking Lot (use 125 E. Cheves Street for your GPS Address). This parking is first-come, first-served.
The SC Pecan Music & Food Festival is not responsible for damage or theft to vehicles in recommended parking areas. We encourage you to remember to lock your car and leave valuables out of site. The SC Pecan Music & Food Festival does not endorse or sponsor any paid parking areas.